Let me explain today how I discovered the absolute best-frozen lasagna out there, and it's from none other than Trader Joe's. As a busy person, I don't always have the time or energy to cook a full meal from scratch. So, I often turn to frozen dinners, but I'm always on the hunt for something that is not only easy but also delicious.
That's when I stumbled upon Trader Joe's lasagna, and I have never looked back. Oh mine, the texture is perfect, the flavor is amazing, and it's so simple to make.
So my reader, are you ready to make some lasagna tonight? Let me show you how.
Does Trader Joe's have lasagne?
When it comes to pre-made lasagna trader joe's, he is always one of the first places that come to mind. But the question is, does Trader Joe's actually have lasagna on their shelves?
Well, yes, they absolutely do. And not only do they have lasagna but they have some of the most delicious and mouth-watering varieties that you'll ever taste.
One of my go-to lasagnas at Trader Joe's is their classic frozen lasagna with beef. The layers of perfectly cooked pasta, hearty meat sauce, and rich melted cheese make for an indulgent and satisfying meal.
What I love most about trader joe's lasagna noodles is the quality of the ingredients. You can taste the fresh herbs and spices in the sauce, and the cheese is always perfectly melted and gooey.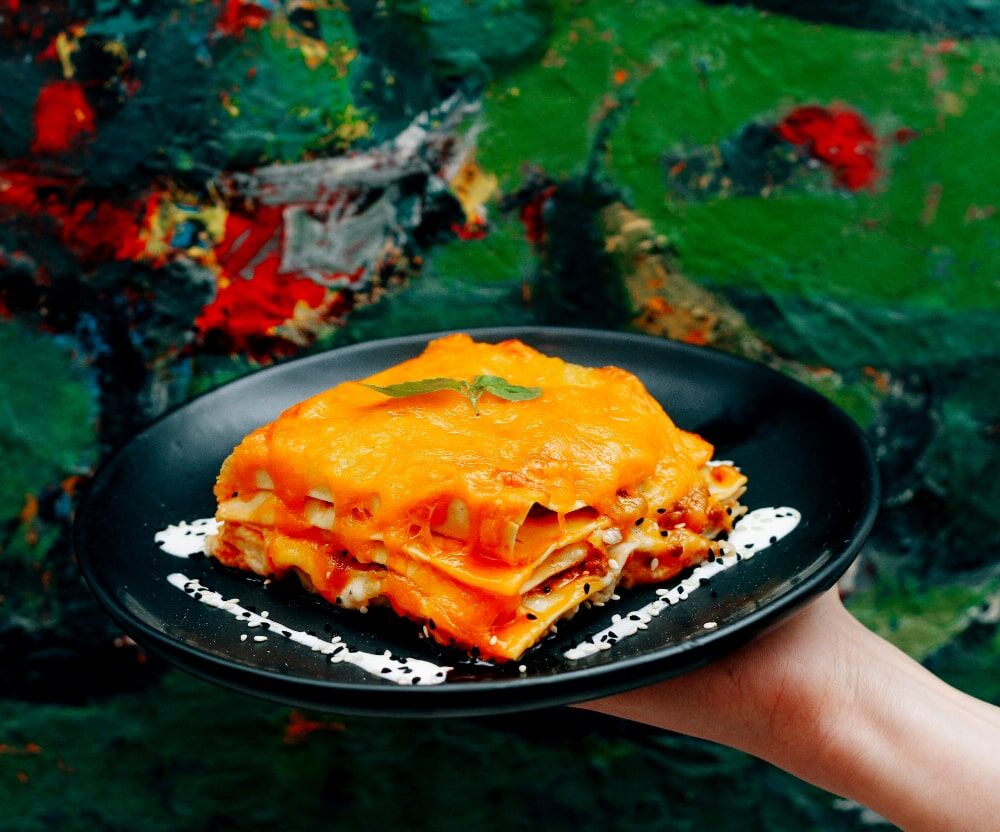 How much does a Trader Joe's lasagna cost?
Alright, let me tell you about one of my favorite dinner options trader joe's vegetable lasagna. Not only is it delicious, but it's also affordable!
And, in case you're looking for a hearty meal that won't break the bank, then trader joe's vegetarian lasagna is a great choice. For only $6.49, you can feed two people with this scrumptious lasagna.
Now, I know what you're thinking, "but isn't making lasagna from scratch cheaper?" Well, technically yes, that's why I am here today with my Trader Joe's lasagna recipe.
Now you are not only going to learn how to make lasagna but also you will get some tips and tricks on how to make it even more delicious and affordable.
Preparation Time: Only 20 mins
Cook time: Approximately 30 minutes
Total Time: 1 hour and 5 to 10 minutes
Course: Main
Cuisine: American
Calorie: 340 calories total (Approximately)
Serving: 8
Trader Joe's Lasagna Recipe Ingredients
2 tablespoons of pure olive oil
1 1/2 pounds of ground turkey
3 cloves of minced garlic
1 teaspoon of dried oregano
1/4 teaspoon of red pepper flakes
1 teaspoon of fine sea salt
2 25 oz. jars of Trader Joe's organic marinara sauce
1 16 oz. package of Trader Joe's no-boil lasagna noodles
1 bag of baby spinach
3 cups of mashed, cooked sweet potato
1 container of whole milk ricotta cheese
2 beaten eggs
1/4 teaspoon of freshly ground black pepper
1 pound of mozzarella cheese, grated
1 cup of parmesan cheese, grated
Our previous published content: Jesse Kelly Burger Recipe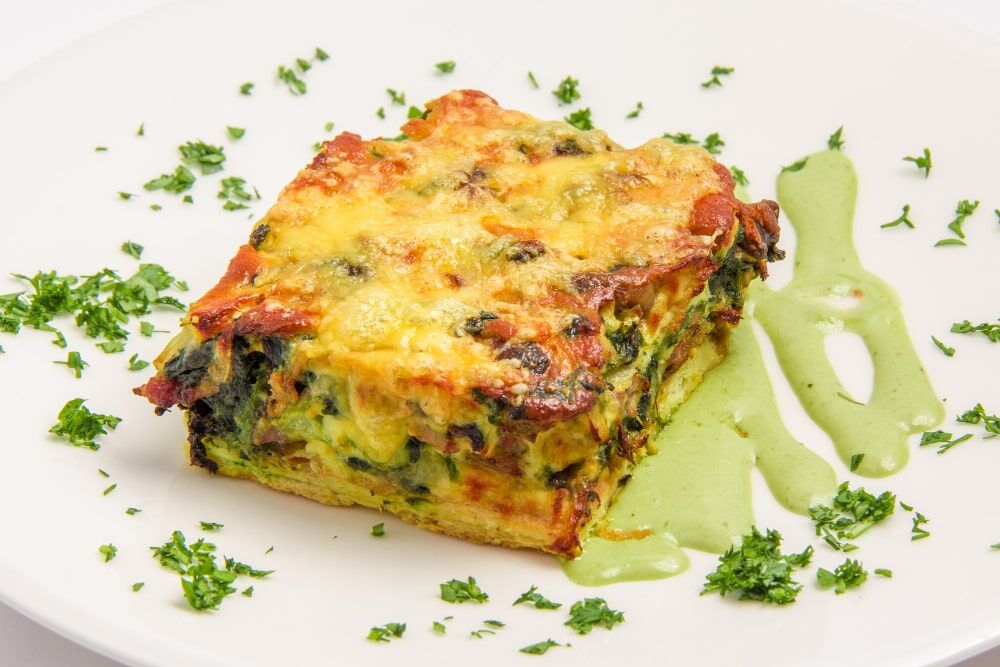 Trader Joe's Lasagna – Step-by-step process
1) Preheat the oven to 400°F. Place a 13×9 inch baking sheet on top of a rimmed baking sheet to catch any drippings.
2) Then heat 1 tablespoon of olive oil in a large saucepan over medium-high heat.
3) Add the ground turkey, garlic, oregano, red pepper flakes, and 1/2 teaspoon of salt.
4) Cook and stir frequently until the turkey is lightly browned about 5 minutes.
5) After then, add the marinara sauce and let it simmer over low heat while you prepare the rest of the ingredients.
6) In a large skillet, heat the remaining 1 tablespoon of olive oil over medium heat.
7) Add the spinach and the remaining 1/2 teaspoon of salt.
8) Cook until the spinach is wilted, about 3 minutes.
9) In a medium bowl, combine the sweet potato, ricotta, eggs, and black pepper.
10) Mix well and set aside.
11) To assemble the lasagna, start by spreading 1 1/2 cups of the meat sauce on the bottom of the baking dish.
12) Top with a layer of 5 lasagna noodles.
13) Then, spread half of the sweet potato mixture over the noodles, and top with all of the cooked spinach.
14) Next, add another layer of 1 1/2 cups of the meat sauce, followed by half of the shredded mozzarella, 5 more noodles, and the remaining sweet potato mixture.
15) Top with another layer of 1 1/2 cups of the meat sauce, the remaining shredded mozzarella, and finally the grated parmesan.
16) Cover the baking dish with foil and bake in the center of the oven on top of the baking sheet for 25-30 minutes.
17) If you made the meat sauce and sweet potatoes in advance and added them cold, bake for an extra 15 minutes.
18) After 25-30 minutes, remove the foil and bake until the lasagna is golden and bubbling, usually another 10-15 minutes.
19) Let it be cool for at least 15 minutes prior to serving and slicing.
One simple meatloaf recipe is the Bomb Meatloaf Recipe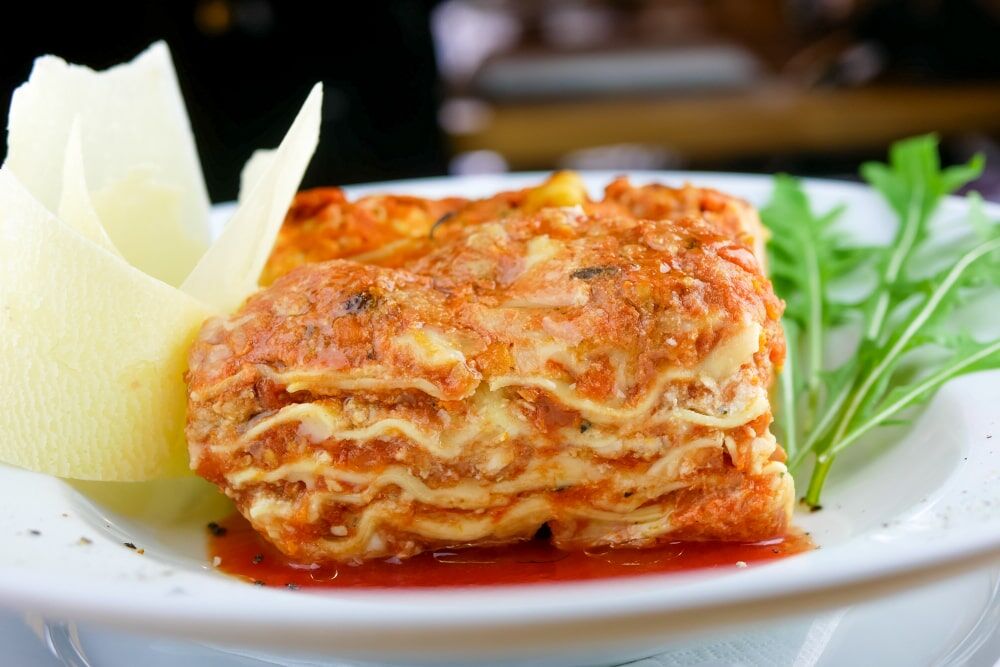 Pro Tips to make the recipe tastier:
1) In case you don't have ricotta on hand, you can also use cottage cheese or even a vegan-friendly ricotta substitute.
2) Better taste comes with better seasoning, so add more black pepper and salt to the meat mixture if necessary.
3) Make the sauce ahead of time and assemble the lasagna just before serving to prevent it from getting soggy.
Final Thoughts
If you are in a good mood today, then I recommend let's make our days even better with trader joe's lasagna. Oh wait, I just saved 6.49 dollars on this lasagna.
Don't you think you should appreciate my hard work by sharing this lasagna recipe with your friends and family?